Halloween night... did you happen to spy any fairies? Perhaps a ghost or goblin? Well, we certainly had fun trying!
I whipped up the girls costumes very quickly on Sunday afternoon. They both wanted to be super heroes and so they each got felt masks with fun buttons and patchwork capes. Super simple but they loved them and they make a great addition to the dress up basket.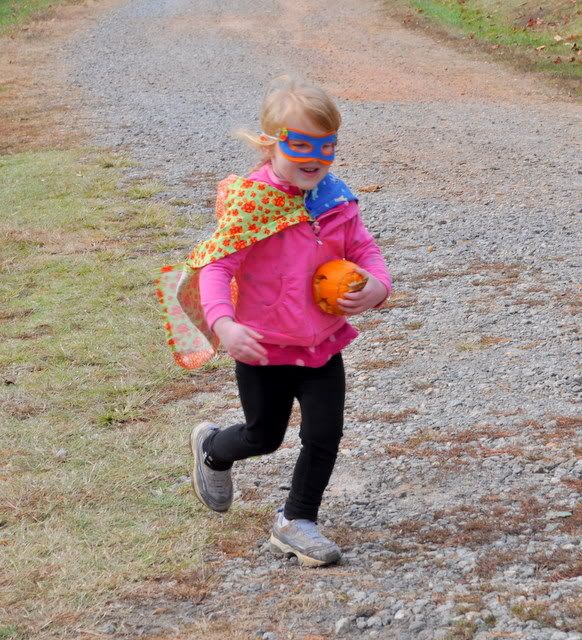 We actually got a late start as I can't drive my car at the moment and had to wait for their dad to get off work so I could borrow his. Which means, unfortunately, I didn't get many pictures before it got too dark. But here's what I did get...
Following the tree elf (my friend, fellow mom) through the woods in search of natural treasures to offer to the earth spirits. There are so many different types of trees at her home, the girls found tons of acorns (kinds we don't have here, must collect more when we go over for our co-op meeting on Friday), nuts, lots of beautiful, fallen leaves, and other little things they thought the fairies might love. We were in a hurry when we left the house and ran off without our lanterns and fairy scopes. I think another fairy hunt will be in order later this week.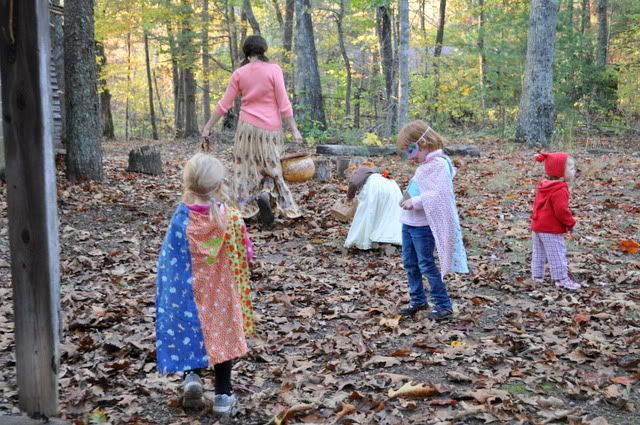 Later in the evening they placed their offerings inside of that big cauldron she is carrying and were given, in exchange,
a citrine stone
from me and from her a little pouch she had sewn and filled with flower bulbs which the girls cannot wait to plant in their garden.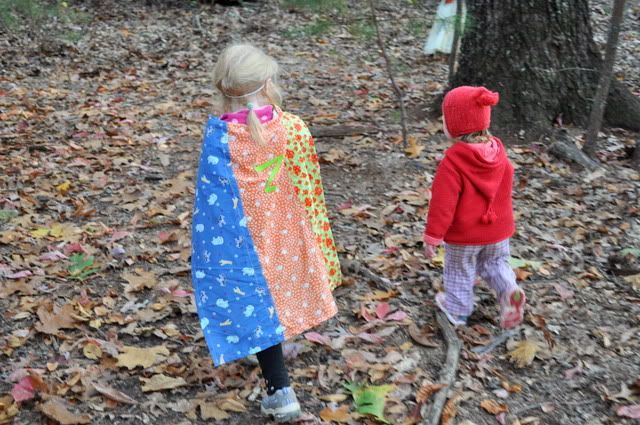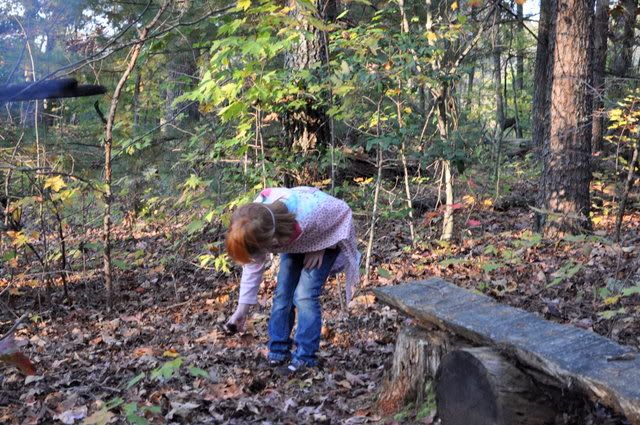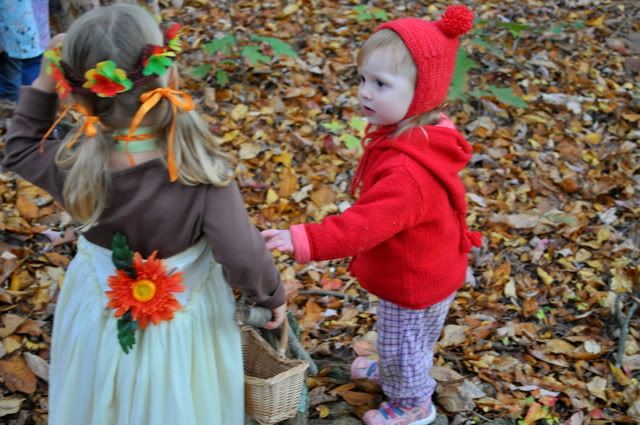 Her home is right inside of the woods and everywhere we walked we heard crunch, crunch underfoot!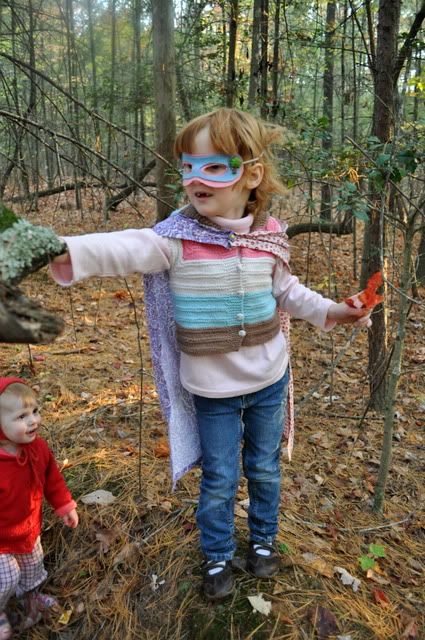 After we had gathered our offerings we went inside to warm up and carve our fairy homes... well, I carved and Kaiya helped scoop. Afterwards, we brought them out to the fire her husband had built and the girls got to decorating the interiors for the fairies and gnomes that might want to stay there. A leaf for a rug, acorn chairs. I hate I didn't get pictures. It wasn't too dark at that point but from then on out it was all I could do to keep River back from the fire!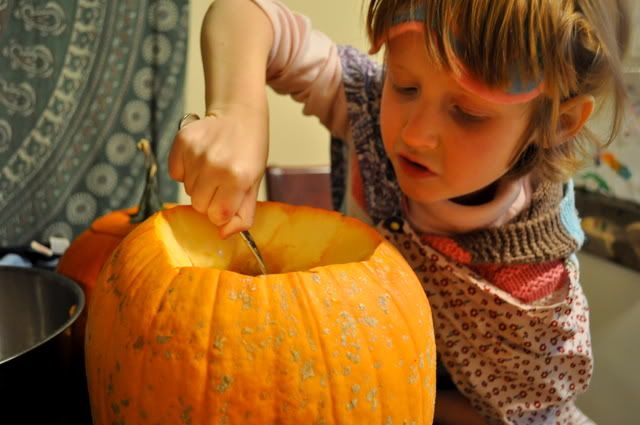 Here they are in the process of filling it, anyway, while I was putting twigs in the windows to make them look like window panes.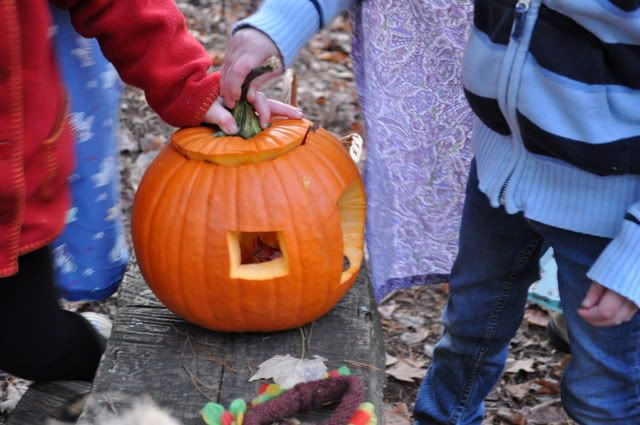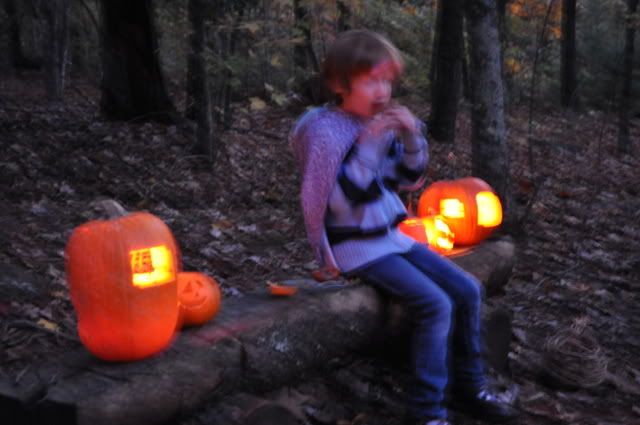 Once they finished my friend gathered the girls around and told them the story of
Peter's Pumpkin House
. Then we ate veggies dogs, sweet potatoes and chocolate bananas and the girls ran about in search of fairies and brownies and other spirits. When everyone had their bellies full and it was too dark to see anymore we went back inside to warm up with some hot cider.
Can I just tell you how wonderful and refreshing it was to spend our Halloween this way?! It was sweet, simple and magical. And not once did our girls express dissatisfaction at not trick-or-treating or missing candy. Not once!