Bear with me, I have zero drawing talent, but here is our St. Michael and a fearsome dragon, nonetheless.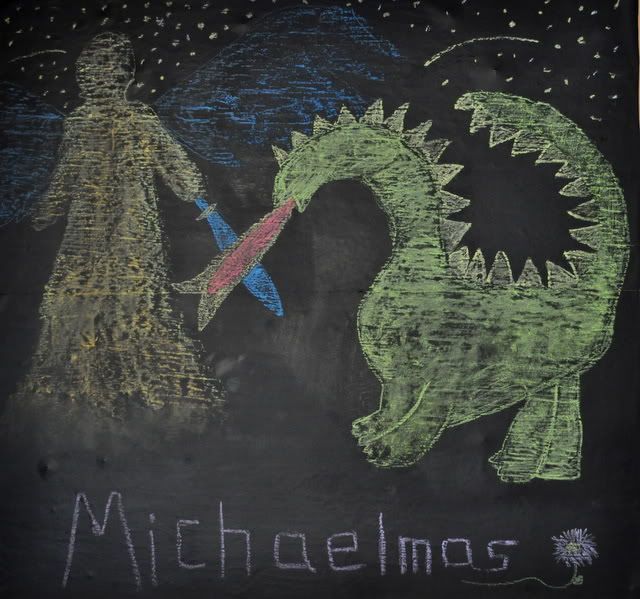 The girls have been drawing dragons and knights and kings and princesses all week. I have been so surprised how they have taken to the theme of Michaelmas. But, it seems to have really pulled them in.
We went walking yesterday, looking for wild
Michaelmas daisies
alongside the road, they're always so plentiful this time of year. The girls have been bringing me arm fulls of the white ones for the past few weeks, but today we were seeking the purples.
And found a good bunch.
We also poured a candle to begin lighting today using
this tutorial
. Very easy, love the results. Lacking very dragon-y colors of modeling beeswax I decided to forgo
the dragon on the candle
(though, I really want to give it a go next year) and, instead, we chose some dragon-y colors of glitter and rolled the candle in it. After the candle was hard (and cool again) I warmed it til it was glossy over a hot stove top burner. Then Kaiya rolled it in our glitters.
Meanwhile Zoe is at those dragons some more!
We're very pleased with the results.
"As St. Michael is often depicted fighting a dragon, we use this motif for our candle. The flame becomes St. Michael's fiery sword subduing the dragon day by day until he is banished completely."
All Year Round
The theme of drawing inward and taming/slaying our inner dragons really speaks to me. What a blessing to have this yearly reminder and time set aside to do so.
Today we will be baking our dragon bread and telling
the story of the harvest loaf
. We have a craft (or two) up our sleeves, and I'll share all of that tomorrow. Till then, have a beautiful Michaelmas!
Brave and True
Will I be
Each kind deed
Sets me free
Each kind word
Makes me strong
Fight for the right
Conquer the wrong
Source